Note: the festival ended around Midnight on Dec 19. It was very successful. We are preparing a summary about the event. Pending the release of this publication, you may browse the blog with various updates issues before and during the festival (with the fdi-vdf tag on pibinko.org). The blog posts for this event are currently only in Italian, but you should still get the sense of the story and -should you need immediate feedback, you may write to info@pibinko.org.
On Dec 17-18-19 2016 we are organising a "Winter Fest" in the Farma Valley, a quasi-off-the-beaten-track site about 100 Km South of Florence (or some 200 Km North of Rome).
Read below the flyer for more information.
Our soundtrack
The primary focus of the Winter Fest will be on music.
The valley has an interesting musical tradition, combining:
a history from the late 19th Century and its Philarmonic traditions
a significant group of residents with a real rock-blues soul (leading to playlists in the bar with things like Warren Haynes and Gov't Mule , Francesco Piu, Everclear, Giorgio Gaber,  The Who and Elio e le Storie Tese to name but a few).
Summer parties will typically be under the influence of all-together-everybody dance hits.
The traditional May 1st celebration . Since 2011 the morning exhibitions by  Philarmonic bands and traditional songs from Maremma is complemented by a rock afternoon normally catered by local bands, but occasionally hosting "musical aliens": in 2014 we had as a main guest Joe Jary, which for the Farma Valley was like having Carlos Santana.
occasional "out of the box" events, like the 2009-2010 New Year's eve, with a psycho-garage-band playing twice (once for the official gig and the second time with an impromput unplugged set in the bar, two days after)
The Farma Valley Winter Fest will host
five live sets in three days
, including local cover bands, one
national rock band
(their third CD will be out in February), an old (tending to 70) but wise
folk-country guitarist and painter
who settled in the Farma Valley a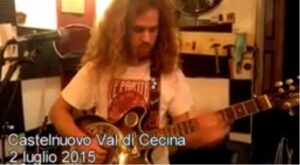 fter forty years of globetrotting, and some special guests.
The Festival will see a high density of musicians, summing folks from the Valley to guests and visitors, so we can't exclude the possibility of jam sessions happening here and there (but we can't plan them either, or they would be less interesting).
The culture/environment/open innovation angle
The festival will also have a cultural/scientific angle, with presentations from stories which started about ten years ago, and which are summarized on 
www.pibinko.org
and
www.attivarti.org
 , and in a
short article
presented in 2015 at an international conference on environmental education.
The Evening of Sunday Dec. 18 we will present the Beta version of the Farma Valley community map. This work was initiated in early 2015, when we decided to run in an international contest on location based games for environmental education, and was then continued in various steps during the past months. We would like to launch the 1.0 version of the map before the end of the Winter, so now is a good time to share the work in progress.
In the same evening we will also have the handover of some of the
night sky quality monitoring sensors
we have been lending over the past nine years to provide citizen science data to the World atlas of light pollution and to promote some of the "dark sky" areas in Italy, as a part of the
BuioMetria Partecipativa
project.
On
Monday, Dec. 19
, our crew (with whoever wants to join) will gradually glide from 442 metres above sea level inTorniella to 10 metres above sea level (Grosseto), where we will end our festival with an evening about
photography
. Our keynote speaker will be
Maurizio Bacci
, the first person in Italy to get an MSc in Environmental Engineering (this course was created in 1981), with some forty years of shooting around Europe.
Hey, but where we not in Tuscany?
In the midst of all the fun and a mood which closely related to "The Commitments" movie, we were almost forgetting that in the Farma Valley you will find several mouthwatering spots to eat and drink, and cozy places to sleep.
If you plan to visit the valley and stop over, we will be glad to provide some indications and options for food, lodging, and other services you may require.
How is the initiative developing?
The Festival,  was publicly announced last Sunday, Dec. 4, 2016. It immediately gained media attention: Il Tirreno, one of the two newspapers published in Tuscany, dedicated
almost one full page
to the event, in its Grosseto edition, on Dec. 5. The reporter also dedicated a
specific box
to the Community Map.
The festival will also act as the prelude for the next 12-18 months of activities for
pibinko.org
,
attivarti.org
and the team helping to make these projects work.
Registration
Registering for the Farma Valley Winter Fest is not necessary, but strongly recommended, especially if you are planning to eat or sleep: meals are excellent Tuscan specialities, and accomodation are mainly in cozy locations, but  the number of seats and beds is limited.
Secondly, consider that temperatures in mid-December in the Farma Valley will range from a minimum of a few Celsius below zero to a maximum around 10 °C. If you are from Finland, this will be quasi Spring for you, but even if you just want to check out the gigs or take the guided tours (which are all indoor), it will help us to have less people  out in the cold if there are more people than we expect.
For Italian speaking visitors, we have a full registration form…for non Italian-speaking visitors, you may simply send an e-mail to:
prenotazioni@attivarti.org
 and we will write you back with options.
Registration to the Farma Valley Winter Fest is free.
Acknowledgements